The Illinois economy is roaring ahead, offering businesses unprecedented opportunity to innovate and grow. With a GDP topping $1 trillion a year, Illinois has the 5th biggest economy in the nation. Last year, the state ranked 2nd in the nation for total corporate facility investment projects, while Chicago topped all other metro areas in the country.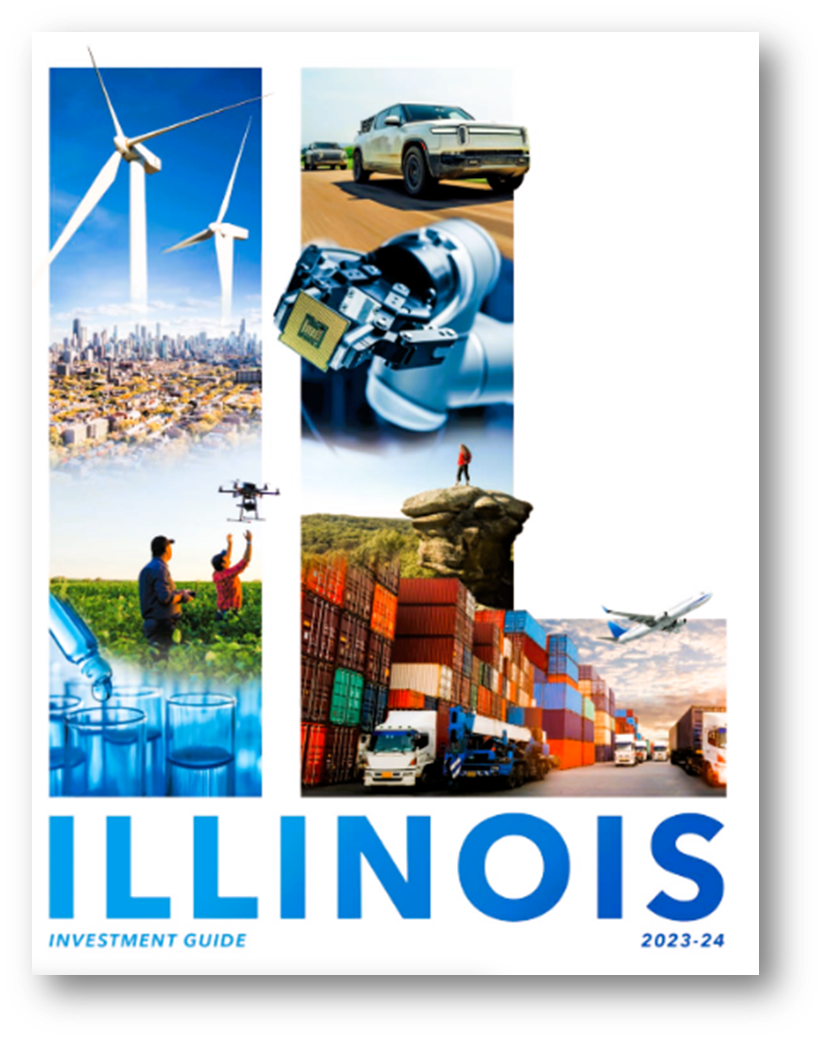 Job growth is strong and the state is fast becoming a bastion of the green economy thanks to signature projects for electrical vehicles, batteries, and solar energy. Illinois' central location, world-class infrastructure, and highly skilled workforce are all helping it stand out. Intersect Illinois CEO Dan Seals sat down with Site Selection magazine for a Q&A that was featured in their 2023 Illinois Investment Guide.
What do you think were the four biggest economic development project wins of the past year in Illinois?
Dan Seals: Quebec-based Lion Electric just opened its new electric school bus plant in Joliet. They started working on that project two years ago. It covers 900,000 square feet and will employ around 1,400 skilled workers. It is expected to have a manufacturing capacity of 2,500 all-electric buses by the end of this year. To see that site go from nothing to what it is today – the largest commercial EV plant of its kind in North America – is amazing.
Another big win for us was LG Chem of South Korea. They announced last year that they would invest to build two new bioplastics plants in Illinois. They are working with ADM to come up with more sustainable products. That is a Korean manufacturing company that decided to choose Illinois because the chemical manufacturing workforce in the state is so strong.
Manner Polymers out of Texas was another huge win for Illinois. What won over the CEO was having lunch in the town. He likes to go incognito when he visits places. He walked around a town in another state and didn't like how he felt there. Here, he liked the way he was treated in Mount Vernon. He even built a 15-acre solar field to help power the company.
Ollie's Bargain Outlet created 145 jobs and invested $16 million to set up a distribution center in Illinois. I like this story. The city of Princeton has been working to get the site ready for the right project for years. It is a small town on Interstate 80, but they are playing the long game. In this case it paid off, because due to their advance work, Ollie's was able to move quickly on the deal.
(Note: After this Q&A was originally published, Gotion, a leading battery maker for electric vehicles, announced it had chosen Illinois for a new, state-of-the-art plant, investing $2 billion and creating 2,600 jobs through a project that bolsters the state's standing as a leading EV manufacturing hub.)
How has Illinois improved its overall business climate over the past several years?
Dan Seals: The big picture is getting our fiscal situation back under control. The governor and the legislature made some big moves in that area. Aggressive new incentives have been passed, too. We have a $400 million closing fund for cash grants. REV (Reimagining Energy and Vehicles) Illinois is big for EV and battery projects; and our new MICRO Act is big for semiconductors.
Thanks to EDGE (Economic Development for a Growing Economy) and our improved fiscal condition, we can commit more resources to incentives. We have been proactively going out there and telling our story. Our largest delegation recently attended a major trade show event in the UK. That is evidence of this sort of lean-in proactive approach from the governor on down.
Illinois once again ranked second in the nation for corporate facility expansion projects in 2022, and metro Chicago finished first.
What are the primary factors that are responsible for these accomplishments?
Dan Seals: Being in the middle of everything helps. When you are at the center of the nation's infrastructure, there is not a better place for getting your product out to customers. All of our major transportation assets are managed well and effectively. CNBC talked about our excellent infrastructure in its recent Best States for Businesses rankings.
The other key asset is our skilled workforce. We get high rankings for our educated workers and our community colleges. That allows us to do a lot of value-added manufacturing. That is our bread and butter for most of our growth. Life sciences combine with that really well. We are a leader in medical manufacturing and distribution.
That has been at the heart of the success we have had, but I think we can do better. Telling our story is an important part that has been missing. I don't think that Illinois has typically done a great job telling our story. A lot of other states with a lot less to offer are talking. It is time that we start talking about what we do well.
What are the top two or three priorities of Intersect Illinois over the next 24 months?
Dan Seals: A big one is (our) Vetted Sites (program). Utilities, rail companies, and highways – let's identify the best sites we have. Let's figure out where rail spurs and substations go on each site, and then let's market those sites. We have already started that process. We have identified the first tranche of megasites. I want to finish building out that program over the next several months.
Second is international growth. We just came back from the UK. We also hosted the Midwest-Japan Conference in Chicago. Lion Electric is a Canadian company. The UK, Canada, and Japan are the three biggest foreign investors in Illinois. I want to engage with them more to bring even more foreign direct investment into Illinois.
The third priority is to tell our story more.
Innovation and entrepreneurship have long been strong suits of Illinois. What is happening on this front these days in your state?
Dan Seals: There is a lot going on here. Chicago had $10 billion of venture capital invested here last year – a new record. Several emerging sectors are creating new business leaders in new areas. The Chan Zuckerberg Initiative chose to invest $250 million in Chicago for its biohub. Chicago won with the University of Chicago, Northwestern, and the University of Illinois all collaborating in the life sciences space. Industrial fermentation is taking off. That is where agriculture meets biotech. We are seeing that applied to fuels, eliminating plastics and other areas. All are showing growth in Central Illinois. Quantum technologies are another emerging sector here. We have a critical mass of quantum computing capability in Chicago. We are seeing a lot of startups in that space. UK ventures are coming here because of that. This also helps in communications and advanced manufacturing.
Finally, water is starting to become part of our value proposition. As we continue to see extreme weather, we recognize that we are sitting on the world's largest supply of freshwater. That water is a vital resource to our quality of life and businesses. Semiconductor firms need it. We are seeing water become a big issue and a major strategic advantage for Illinois.