An Illinois location helps companies efficiently move people and products throughout North America and the world. With more than 2,000 internationally owned businesses employing 375,000 people in Illinois, the state's central location and talented workforce advance Illinois' position as a premier global business destination.
Global Connectivity
Strategically located in the center of the United States, Illinois' world-class infrastructure connects companies and their people to the rest of the country and the world:
Eight foreign trade zones and five international airports allow international companies to access their customers and operations seamlessly.
Nineteen port districts offer companies direct links to the Atlantic Ocean, Great Lakes, and Gulf of Mexico.
Illinois is the only U.S. state with all seven Class-1 railroads.
From Illinois, companies can move their products to more than 200 countries around the world.
Chicago's O'Hare International Airport was recently ranked the most connected airport in the WORLD.
From Illinois, you can reach 83 percent of the continental U.S. within a two-day truck drive.
A Robust International Community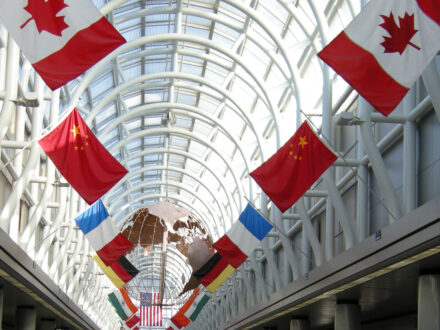 In Illinois, companies will find a supportive and engaged international business community. The state's international population includes 1.8 million people (14% of its total population). Illinois is also home to:
More than 80 foreign consulates that help facilitate employee relocation for global firms.
Countries leading in foreign investment include the UK, Japan, Germany, Canada, and France.
With 90 sister cities across the state, 29 for Chicago alone, Illinois allows global businesses ample opportunity to reach the North American market, while also feeling at home.
Illinois' Office of Trade and Investment has representatives in six locations across the globe that support businesses interested in establishing or expanding their presence in Illinois.
Locating in Illinois
Intersect Illinois is here to help global companies looking to locate or expand in the U.S. by connecting companies with its network of partners and providing information and guidance to make location and expansion decisions. Intersect Illinois also provides data and site selection assistance, and helps in navigating and simplifying the site selection process. Contact Intersect Illinois here for more information.
Key FDI Facts:
4th in the nation for number of employees supported by internationally owned U.S. subsidiaries.
Largest exporting state in Midwest, and 5th in the U.S., with exports valued at over $78 billion in 2022.
Illinois' foreign direct investments total over $113 billion, making it the 5th largest source for FDI in the U.S.
Illinois ranks 3rd in the number of jobs supported by exports nationally, with over 266,200 attributable jobs