A trio of recent investments from some of the world's leading innovators in food and manufacturing underscores Illinois' role as a hotbed of activity in sustainability, manufacturing, food production, and distribution.
LG Chem and ADM expand in Decatur to produce sustainable products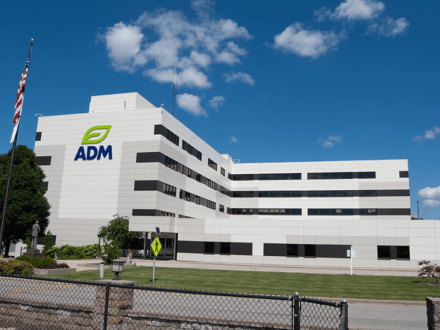 LG Chem, a global chemical company, and ADM, the nutrition and biosolutions giant, last month announced the formation of two joint ventures in Decatur to make lactic acid and polylactic acid to meet growing demand for a variety of plant-based products, including bioplastics.
The first venture, GreenWise Lactic, will produce up to 150,000 tons of high-purity corn-based lactic acid a year. GreenWise will be majority owned by Chicago-based ADM, which will contribute fermentation capacity from its existing bioproducts facility in Decatur.
The second venture, LG Chem Illinois Biochem, will be majority held by LG Chem and will build upon the South Korean firm's expertise in bioplastics to produce around 75,000 tons of polylactic acid per year, using product from GreenWise.
"Sustainability is one of the enduring global trends that is powering ADM's strategy and growth," ADM Chief Executive Juan Luciano said in a statement. "With these two new joint ventures, we're planning to take the next growth step, greatly expanding our ability to meet growing demand for plant-based solutions."
The two joint ventures will support more than 125 jobs in the Decatur region. Final investment decisions will be made in 2023, with construction expected to start later that year and production beginning in late 2025 or early 2026.
Tyson Foods announces Caseyville expansion
Also in August, Tyson Foods, Inc. announced a $180 million expansion of its Caseyville facility to boost production of snacking and breakfast items under its Hillshire Farms and Jimmy Dean brands. The expansion will add more than 250 new jobs. Production is expected to start this fall, with the 170,000 square foot expansion set to be completed next summer.
"Tyson's decision to expand in Illinois speaks to our strengths in manufacturing, our world-class infrastructure, and our abundant – and highly talented – workforce," Illinois Governor JB Pritzker said in a statement.
Tyson already employs more than 4,000 people in Illinois, including nearly 300 in Caseyville. The company said it generated more than $933 million worth of economic impact in Illinois last year. The expansion received an Economic Development for a Growing Economy (EDGE) tax credit, which stipulates investing at least $130 million and creating 220 jobs over two years.
General Mills breaks ground on Belvidere distribution center
In late August, General Mills broke ground on a new warehouse and distribution center in Belvidere that will allow the Minneapolis, MN-based food giant to increase distribution throughout the Midwest.
The 1.3 million square foot, state-of-the-art facility is one of the biggest development projects in Belvidere history and will employ between 55 and 75 full-time workers when it opens next fall. State officials secured $700,000 in funds to reconfigure a neighboring road and make water and sewer improvements.
General Mills already operates a manufacturing plant in Belvidere that makes cereals and foods for its Nature Valley and Fiber One brands. The I-90 interstate highway runs through Belvidere, which also offers access to rail and the nearby Rockford International Airport.