This article was initially published by ChooseDuPage.
Merkur was looking for the next big thing. For nearly 30 years, the Quebec, Canada-based engineering firm had partnered with manufacturers across North America. During that time, they built a reputation as the "brains of the industry," helping their clients upgrade systems, eliminate bottlenecks, develop new products, and build strategies that help businesses stay competitive.
From the very beginning, one of Merkur's differentiators was their focus on implementation—the art of getting stuff done. While other engineering firms may provide helpful information, Merkur takes it a step further, working directly with clients to put their plans into action. Got a bottleneck that's slowing down your factory? They identify the problem, tell you how to fix it, then work with you to make it happen. Going electric? They develop a plan to modify your assembly line and solve various logistical challenges, like sourcing and storing batteries. Then, they help you put that plan into action.
To put it another way, Merkur's business is all about evolution: evolving products, assembly lines and entire businesses.
So when it came time to evolve their own company, they were ready.
In 2021, the firm decided to open a second location. At the time, change was sweeping through the manufacturing industry; the technology was evolving, the supply chain was reorganizing, and the Electric Vehicles (EV) sector was revving up its engines. While Merkur's portfolio had grown in recent years, they saw an opportunity to expand into new markets and help lead manufacturers through times of big, fast change. For decades, they helped Quebec's manufacturing industry evolve; now, they were ready to bring their expertise to a new market.
But first, they had to choose the right location. And as they began weighing their options, they found a (literal) world of possibilities.
A Global Search
As they began their search for a second office location, Merkur kept an open mind. They considered places around the world, from Ontario to France. From the outset, they wanted their new office to focus on their core business: manufacturing's transportation sector, the making of buses, ambulances, trucks, trains and ATVs. Whatever location they chose, it would have to be a place where this industry had a bright future.
"And then an opportunity came along," said Jonathan Levesque, Merkur's Director of Business Development and USA Market. "That's often how life works, isn't it? You prepare, you get ready for your next big move, and then something shows up.
"What showed up, of course, was Lion Electric."
Follow the Leader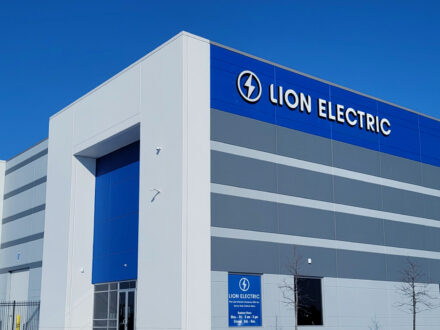 Also based in Quebec, Lion Electric manufactures zero-emissions vehicles like school buses and urban trucks. For years, Merkur had partnered with Lion to improve their Canadian manufacturing plant and assist in product design.
One day, when Merkur was in the middle of their search for a second location, they received a call from their longtime client. As it turned out, Lion Electric was also looking to expand into a new market. Their search had brought them to Northern Illinois, the heart of the U.S. manufacturing industry and an epicenter of the growing EV sector. Lion planned to build a new headquarters in Joliet, a 900,000-square foot facility that would produce up to 20,000 electric vehicles each year.
They were building the future in Chicagoland, and they wanted Merkur to join them.
The "Sweet Spot"
Working with Choose DuPage, which provided data and analysis on local market conditions, the Merkur team took an in-depth look at Northern Illinois' manufacturing sector.
"We quickly discovered there's a lot of similarity between Quebec and Chicagoland," Jonathan said. "There are many manufacturers here that fall within our core business. In fact, there are more in Chicagoland than the entire province of Quebec."
In the Chicagoland region, manufacturing roots run deep. As a result, the market is a mix of new, 'greenfield' factories, like Lion Electric's Joliet facility, and legacy manufacturers that have been operating in the region for decades. Merkur saw an opportunity to do business with both.
"Chicagoland really is the sweet spot," said Dan Krohn, Business Development Manager at Merkur. "On the one hand, we're very interested in the shiny new facilities. We want to be on the front end of planning those factories.
"On the other, you have all these third-generation, fourth-generation businesses in the Chicago area. They've evolved, they've grown. But maybe they haven't grown with the most focused strategy, and now their facilities need a little engineering love. We can step in and help them with a five-year plan to restructure the layout, fix bottlenecks, whatever they need.
"The one thing all manufacturers have in common is that they continually need to improve their flow and become more efficient. We can help anybody do that, whether their factory is brand-new, very old, or somewhere in between."
"There's Something Happening Here"
In 2021, Merkur opened their new office in Downers Grove, Illinois. From here, the firm is a short drive from their client Lion Electric in Joliet, as well as hundreds of potential clients across the Northern Illinois region. Merkur is in the "sweet spot," a place where they can continue serving a key legacy client while expanding their portfolio amid a growing market.
The firm sees a bright future for the region, and they plan to be a part of it. Between Chicagoland's legacy as a manufacturing powerhouse and its ability to attract top talent, the region is a global manufacturing leader, and it's already setting the stage for the industry's future.
Competition from other regions will be fierce, but part of Merkur's role is to help local manufacturers adapt, upgrade and stay competitive at a global level. And that's a good thing for Chicagoland. When Merkur helps local businesses function better and be more profitable, those businesses are more likely to continue bringing jobs and investment to the local community, while encouraging others to do the same.
For Merkur, one of the region's most exciting aspects is its fast-growing EV sector. The firm saw how the industry transformed Quebec; now, they're experiencing the beginning of a similar phenomenon in Northern Illinois.
"Every single customer that's on rails or wheels is going electric, or at least talking about it. All of them," Jonathan said.
"Seeing that Lion was moving to Illinois, along with Rivian and others, is exciting for us. We can feel there's something happening here. We've been a part of it in Quebec, and now we're part of it here in Chicagoland."