Hot on the heels of being ranked the #2 state in the country for corporate expansions, Illinois is driving home its business-friendly credentials with a bold new installation aimed at capturing the interest of business travelers passing through Chicago's O'Hare International Airport.
Ranked the most connected airport in the world, approximately 5M+ travelers pass through Chicago's O'Hare International Airport on a monthly basis. Starting this month, they will see the vibrant Be in Illinois billboards on charging stations and in other key locations, highlighting Illinois' strengths in the electric vehicle and food innovation industries.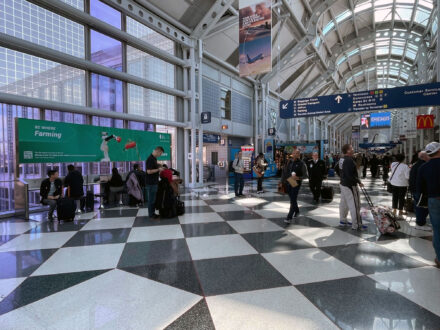 One billboard shows an EV being assembled and invites viewers to "Be where the revolution meets the road." In the other, a robot handling vegetables suggests business travelers "Be where farming meets the future."
The Be in Illinois campaign was launched by Intersect Illinois in 2022 as a way to encourage business leaders to consider Illinois when thinking about expansion and growth. The O'Hare ads mark the next step in getting this message across to executives passing through the airport and kicks off at the start of Chicago's busy convention season. The city is set to host at least 20 major conventions this spring and summer across industries including manufacturing, agriculture, transportation and logistics, bringing droves of people through the airport.
The ads build on the state's momentum as companies continue to choose Illinois for their relocations and expansions. This month, Site Selection magazine ranked Illinois second in the nation for corporate investment, climbing one spot from the previous year with 487 projects. In addition, Chicago was crowned the top metro area for corporate investment for the 10th year in a row.
Home to the 5th largest economy in the U.S., Illinois has long been a destination for companies looking to innovate and grow, thanks to its central location, world-class infrastructure, reliable and sustainable energy and highly educated workforce.
To find out more about how being in Illinois can help your business grow, reach out to us here.