Intersect Illinois projects brought $1.4B worth of investment last year, a rise of 246% from the previous year, creating more than 1,000 jobs. These projects underscore Intersect Illinois' role as valuable partner in helping businesses relocate to a state firing on all cylinders.
Intersect Illinois project wins are outlined in its recently released FY 2023 annual report. The report highlights projects including LG Chem/ADM's joint venture to produce lactic acid in Decatur, Manner Polymer's $54M investment in its state-of-the-art Mount Vernon manufacturing facility, and UPSIDE Foods' $141M investment in its first commercial-scale production facility in Glenview. New project opportunities in downstate locations rose 22% in FY 2023, while half of those closed by Intersect Illinois were downstate.
The annual report also includes analysis of hundreds of relocations and expansions throughout Illinois, showing the broad-based strength of a centrally-located state with a $1 trillion economy and a bold vision for a sustainable, prosperous future.
"Illinois is open for business, and we will continue to demonstrate why our state is the premier location for domestic and global companies in a diverse range of industries," Intersect Illinois CEO Dan Seals said in the report.
Last year, more than 382 companies expanded or relocated in Illinois, representing $6.7B in investment and creating more than 9,300 jobs, according to the report. Digging into the data shows that those relocations and expansions have risen steadily in all key industries over the last three years, with agribusiness, advanced manufacturing and transportation, distribution, and logistics (TDL) leading the way. Moreover, businesses are finding success in all regions of the state.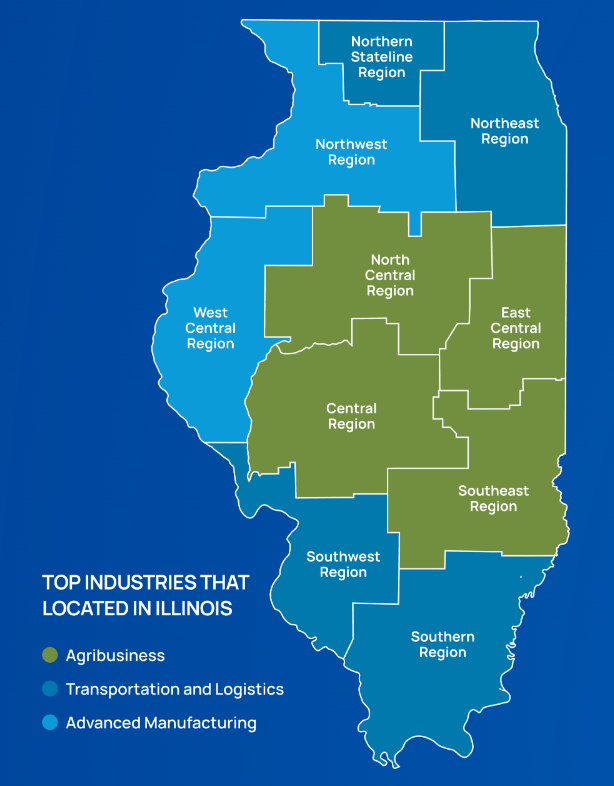 For instance, agribusiness is the largest source of company relocations and expansions in Central Illinois. Led by the TDL industry, the Southwest region had the second-largest source of locates behind only the Northeast. TDL and agribusiness were the top industries in southern regions, while electric vehicles (EVs) and energy – sectors the state has prioritized as vital for economic growth and environmental sustainability — have emerged as a growing sector in Southern Illinois.
Here are just a few key projects by region:
Central: Graphic Packaging International is investing $80M to modernize its facility, creating 100 jobs in Shelbyville.
North Central: Solar company Sunrun is planning a third location that will add hundreds of jobs in East Peoria.
Northern Stateline: Walmart is building a new $1.2B cold-storage distribution hub that will employ 450 people in Belvidere.
Southern: Prysmian Group, a top global producer of cables for the energy and telecoms sectors, announced a $64M expansion that will create 80 new jobs in Du Quoin.
Southwest: Gulfstream is expanding operations at St. Louis Downtown Airport – creating 200 new jobs and retaining nearly 500 in Cahokia Heights.
Many of these relocations and expansions can be found on the Intersect Illinois Relocation Tracker, recently launched on its updated website.
The results illustrate how Intersect Illinois and its partners across the state are committed to providing businesses with the best possible service and support. They also point to the state's tremendous assets, including its top-notch workforce and unmatched infrastructure that make it a competitive place for business investment.
If you are interested in learning more about the opportunities and advantages of doing business in Illinois, please contact us today.