When it comes to fighting climate change, Illinois is leading the way with one of the most ambitious plans in the country to reach 100% clean energy, while also laying the foundation for like-minded companies to thrive. The state's legacy in manufacturing, combined with its booming market for solar installations, forward-thinking policies, unbeatable infrastructure, and highly skilled workforce offers solar manufacturers and suppliers exceptional opportunities for growth.
The (continued) rise of solar power in Illinois
Illinois ranks 2nd in the nation for sustainable development and is already well established in solar power. The solar industry has invested $2.7 billion into Illinois and the state is home to 295 solar companies. On top of this, there are plans to add more than 5,000 MW of solar capacity over the next five years, more than triple today's total installed capacity.
Businesses in the state are also aligning to sustainability goals. Swedish retail giant IKEA owns three of the largest solar rooftop installations in the state. Ameren Illinois recently broke ground in East St. Louis on its first-ever clean energy facility that will use more than 5,700 solar panels to power 500 homes. And, Rivian, which manufactures its EV trucks and SUVs in Normal, Illinois, just developed its first solar parking canopy, which will help power new vehicles completely with clean energy for their first charge. It's safe to say that solar is at the center of the state's blueprint for a green future.
New government programs that are good for the solar business
On top of having no state property tax, Illinois has enthusiastically embraced policies to encourage solar industry growth. The state's Solar for All program creates equitable access to solar by offering credits on utility bills to eligible households, non-profits and public facilities. The program also paved the way for initiatives like ComEd's Give-A-Ray, which helps participants save an average of $1,000 per year by taking advantage of community solar. Both of these programs were vital to the development of the Rockford Solar project in northern Illinois, one of the largest solar installations in the state that was completed last November and provides over 500 low-income families with affordable sustainable energy.
Late last year, the state passed the Climate and Equitable Jobs Act (CEJA), a milestone in its transition to 100% clean energy. Governor JB Pritzker called the law "the most significant step Illinois has taken in a generation toward a reliable, renewable, affordable, and clean energy future". The bill includes initiatives and incentives that will advance the next generation of workers, lower energy costs and offer financial support to solar facilities. For example, it outlines a path to have 40% renewable usage in Illinois by next year, supported by doubling subsidies for renewable energy to $580 million per year. It also gives new life to five former coal plants by earmarking $280 million for companies that repurpose them as solar facilities.
Building on a world-class manufacturing workforce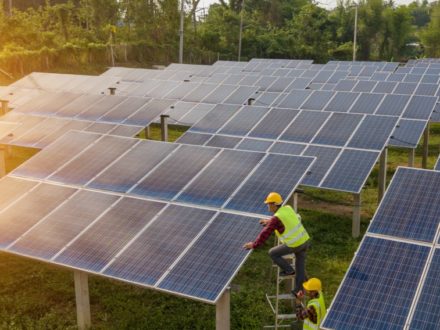 Illinois is a manufacturing powerhouse – the sector is one of the biggest employment drivers in the state. In fact, 12.7% of the economy stems from manufacturing, ranking Illinois 4th in the U.S. Additionally, Illinois cranks out new engineers at an astonishing pace. More engineers graduate from the University of Illinois each year than MIT, Stanford and Caltech combined. Between a growing network of research incubators, 12 world-class research universities and 24,000 STEM graduates annually, the state offers solar manufacturers a deep, diverse talent pool.
CEJA is building on this with bold new investments in workforce training, allocating $180 million a year to support 15 community investment programs administered by ComEd that offer training, skills development and certification preparation to clean energy professionals.
Infrastructure to get your business moving (literally)
As solar takes off across the country, manufacturers need confidence that they can get their goods to market. Illinois has unbeatable access to air, water and ground travel, and world-class logistics and distribution resources that companies across every sector need.
Home to the largest inland port in North America, the country's third-largest interstate highway system, all seven Class I railroads, and five international airports, Illinois gives solar manufacturers a direct line to the North American and global markets.
Solar is set up for success
By pursuing a clean energy future, Illinois has become an ideal location for the solar industry to thrive. The state's booming solar market, forward-looking policies, expertise in advanced manufacturing, ideal location to access national and global markets, and unmatched workforce all help solar manufacturers and suppliers ensure future success.
Learn more about why your company should be in Illinois at BeInIllinois.org.