By Gil Quiniones, CEO of ComEd
The secret ingredient at the heart of Illinois' data center boom
You may have noticed a lot of news about data centers recently.
In ComEd's service territory spanning northern Illinois, there are over 70 operating data centers, with six more under construction and another 13 in the design and planning stages. In the past year alone, the Chicago metro area has landed an additional eight new projects.
One of the latest is by the global company CloudHQ, which is set to bring a new $2.5 billion, 1.5 million square foot hyperscale data center campus to Mount Prospect. Projects of this magnitude bring significant job creation, community investment, and technology advancement to fuel northern Illinois' competitive edge.
Rapid industry growth in Illinois is being driven in large part by the data center incentive program created by the State of Illinois in 2019. Last year alone, these tax credits have led to more than $2 billion of investment in data centers creating hundreds of jobs in ComEd's region. The activity isn't expected to slow anytime soon.
Powering reliably, affordably, and sustainably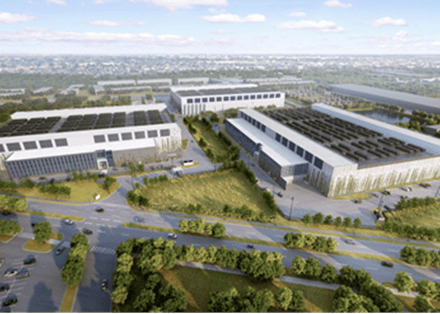 When it comes to site selection for data centers, one of the key factors for businesses making location decisions is access to affordable, reliable, and clean power to maintain high levels of up time for their customers. That's where utilities come in.
ComEd's infrastructure investments are key to meeting companies' operational needs, sustainability goals, and the demands of today's modern customers in the digital era. We've made unprecedented gains in reliability and reducing outages, and since beginning to modernize and strengthen the grid ComEd has helped avoid 18.6 million outages. Companies in northern Illinois now see greater dependability while enjoying access to a competitive energy market.
Access to a modern grid
When companies are considering locations for data centers, ComEd's team works with them on how to best meet their power needs early in the process. We work closely with developers and operators to help them understand where large amounts of power can be made available and provide new infrastructure build outs—like substations where needed—to support a strong, reliable connection to our grid.
Take Meta's new $1 billion data center campus, underway in DeKalb as an example, or look to Elk Grove Village, which has added four new data centers in the last two years alone. Both customers are benefiting from the availability of clean energy, and the addition of new substations by ComEd, which enable the system to serve those data centers and all other customers more efficiently and reliably.
To continue delivering energy reliably, we continue to invest to ensure the grid is prepared for increasingly large loads resulting from increased electrification of our transportation, buildings and industry.
Leading the transition to clean
It's not enough to just power our customers. We must do it sustainably, too.
ComEd's continued investments in clean energy, including beneficial electrification, support our clients' demands for clean, reliable, and affordable energy. Illinois' new Climate and Equitable Jobs Act (CEJA), passed into law by Governor Pritzker and the General Assembly in 2021, puts the state's energy sector on track to become carbon free by 2050. The new law boosts investments in clean and renewable energy, grows green jobs, and calls for new investments in clean energy technology – including a goal of adding 1 million EVs to the roads by 2030.
Our beneficial electrification plan, pending approval by the Illinois Commerce Commission, will help reduce barriers to electrical vehicles and electrification and provide rebates and tools to help large business customers invest in charging infrastructure and electrification of their fleets.
In addition to investing in infrastructure, ComEd is investing in workforce development programs to ensure the talent pipeline is ready to take steps to build and maintain a clean power future here. We are also committing to the future of energy with new plans to promote electrification.
From data centers, to corporate offices, to industrial parks, companies are taking notice of the clean energy transformation underway, and the unmatched supply already found here. Here in Illinois, we have enough clean energy supply to meet the full demand of energy consumed by customers in the northern Illinois region – with clean energy from nuclear, wind and solar powering their needs 95 percent of the time.
The future of clean energy is here in Illinois – come join us! To learn more about how ComEd can support your power needs, please contact us at EconDev@ComEd.com.
---
Gil Quiniones is CEO of ComEd, the electric utility that provides power to more than 9 million northern Illinoisians.