viaPhoton, an advanced manufacturer of fiber optic components, recently opened a new headquarters in Aurora, IL, more than doubling the size of its previous facility. The company is expanding and hiring as it continues its run of breakneck growth amid a booming market for data centers and other telecommunications infrastructure in Illinois and beyond.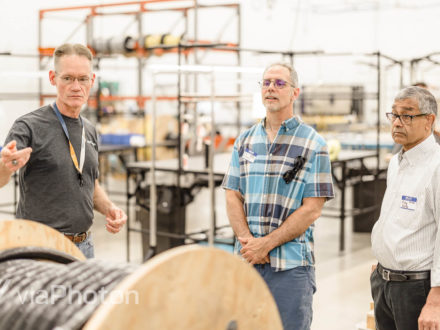 The new manufacturing facility will further equip viaPhoton to supply connectivity solutions at scale and innovate physically and digitally in the customer-centric way that is at the core of its mission. The company now has more than 100 employees globally, with the majority in the Aurora location, and it plans to hire more manufacturing and engineering roles in the Chicago area by the end of the year.
"ViaPhoton just doubled the size of our facility and is on track to create more than 1,000 jobs in Illinois over the next few years," said Chief Executive Baber Abbas.
A recent ribbon-cutting event for the new headquarters featured celebrations with employees, customers, and partners to commemorate the connectivity company's rapid growth and development. One compelling reason that viaPhoton chose the Aurora location was access to a robust and diverse workforce of engineers. The University of Illinois alone graduates 24,000 engineers each year — more than MIT, Stanford, and Caltech combined.
"Our team celebrates the talented workforce in Illinois that has allowed us to build a world-class manufacturing facility. We are proud that 70% of our manufacturing employees are women, and that our training and development programs have enabled our team to upskill and take on high-paying manufacturing roles at the company," Abbas said.
Launched in early 2020, viaPhoton was created to sit at the intersection of innovation and customer service. Since then, the company has experienced tremendous growth, brought high-paying skilled jobs back to the United States, developed a technology platform that serves mission-critical industries, and created many employment opportunities in the Chicago area and beyond.
A considerable amount of the world's data flows through data centers in and around Chicago. Fiber optic cables are essentially the nervous system of these networks, capable of transmitting huge amounts of data at high speeds. As global connectivity continues to expand, a modern, next-gen approach is necessary to support rapid growth. viaPhoton is not only creating high-quality manufacturing jobs but also strengthening the backbone of Illinois as a global data market.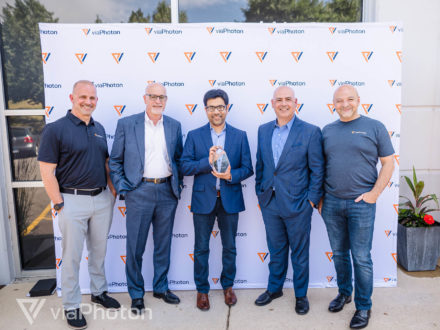 viaPhoton uses advanced manufacturing and design tools to bring engineering closer to customers, offering fully customizable solutions for data centers and other telecommunications infrastructure. With legacy copper-reliant networks failing to supply adequate bandwidth and speeds, next-gen infrastructure is essential. Mass customization tools like those offered by viaPhoton help data centers meet the demands of modern networks by shortening the design process significantly. viaPhoton can create entirely new configurations in weeks, not months, and can design a data center's infrastructure in just a few hours.
The opening of the new manufacturing facility follows an announcement in May that viaPhoton had received additional funding and financing to expand its capital base to $100 million, which it plans to use to hire new talent, build on the technology platform, and expand operations to meet increasing demand.
"We continue to leverage advanced manufacturing technology to bring high-quality jobs back to the U.S. and create a domestic security of the supply of fiber, which is mission-critical to the timely deployment of 5G and broadband," Abbas said.