After years of hype, electric vehicles are finally breaking through into the mainstream — sales hit 4.6% of the overall auto market in the first quarter of 2022, with new EV registrations soaring 60% from a year earlier. Hard work is being done on factory floors, in research facilities and in the hallways of government to make EVs more accessible and useful. As EV firms and their suppliers look to expand to meet the growing demand, three factors will be crucial in determining success: building, brainpower, and a solid base. 
Building: Getting in on the ground floor of EV production
Want to quickly ramp up EV assembly and parts production? Jumpstart your project by finding a location with existing manufacturing facilities and supportive policies. In Illinois, state lawmakers enacted the Reimagining Electric Vehicles (REV) Illinois program in 2021 to encourage investment in new or existing facilities that build EVs or related parts. Under the REV program, companies can qualify for incentives around income-tax withholding, utility taxes and costs associated with training, equipment and other capital expenditures.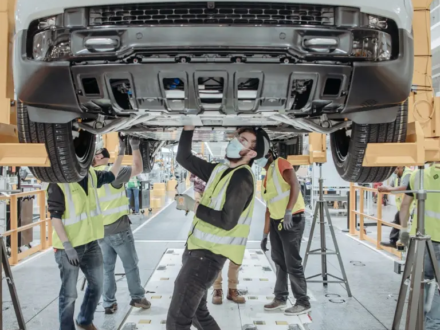 Even before REV was signed, Lion Electric announced a $70 million investment to build electric buses and trucks in Joliet, with production planned to begin in the second half of 2022. And not far away, EVBox builds 200 advanced chargers per week at its U.S. headquarters in Libertyville. Farther downstate in Normal, Rivian has resurrected a former Mitsubishi plant to build electric SUVs, pickup trucks, and delivery vans. The 3.3-million-square-foot facility has reportedly already brought more than 6,000 jobs to the state, with the capability to build 150,000 vehicles a year.  
EV makers building in Illinois will also find an eager and supportive market right outside their factory gates. Under the State's Climate and Equitable Jobs Act (CEJA), also passed in 2021, those who buy a new or used EV can receive a $4,000 rebate beginning in July 2022. As a part of its commitment to clean energy, Illinois is electrifying its government fleets, investing $70 million in capital funding for EV infrastructure projects like charging stations, and has established an EV ombudsman. 
Brainpower: Local talent is stronger than ever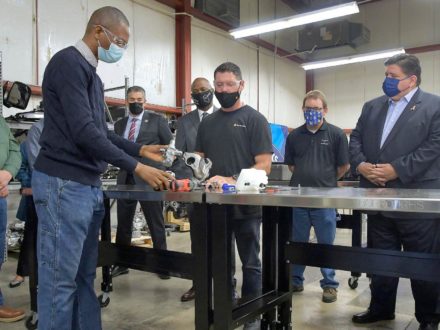 It's often said that people are a business's most important asset. That's doubly true for a cutting-edge industry like EVs. Highly trained workers add tremendous value, and states that invest in their people demonstrate a commitment to the future. In 2021, Illinois announced $15 million in funding for Manufacturing Training Academies at Heartland Community College and Southwestern Illinois College to train students in advanced manufacturing, including EV production in partnership with Rivian. Across town, Illinois State University is investing $44 million in a new College of Engineering to meet growing demand for those skills. 
The REV Illinois program revs this up even more, with income-tax credits for training costs around each employee. Those credits more than double – to 25% from the base 10% – if an Illinois college does the training, or if the training is applied to a recent Illinois college graduate. In short, REV is built to foster a stronger talent pipeline than ever from local educational facilities to EV factory floors. Those education centers are already world-renown: Illinois has two of the top 20 schools for engineering in U.S. News & World Reports' 2023 rankings. And the state is home to 48 community colleges with more than 233,000 enrolled students. 
A solid base: Tapping into Illinois' strong automotive footprint
From sedans to semitrucks, vehicle production relies on a complex global supply chain to bring thousands of parts to a single assembly site. That makes a central location and reliable infrastructure must-haves for bringing parts in, as well as for shipping finished product out. Illinois has a direct path to many end markets: it's the only state with all seven Class 1 railroads, and it also has two major inland ports and 19 port districts, with more than 1,000 miles of navigable waterways. The COVID-19 pandemic and semiconductor shortage has made a strong case for local sourcing, and shorter supply chains reduce overall environmental impact and save on fuel costs, furthering companies' commitments to sustainability for future generations.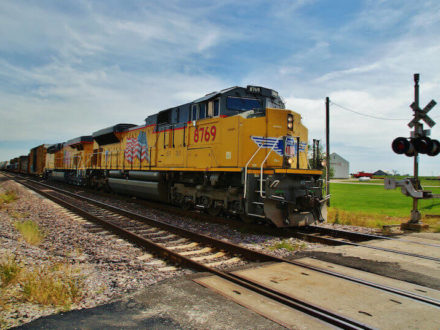 To that end, Illinois has a flourishing EV ecosystem, with more than 1,800 companies making EV parts. That comes on top of a substantial automotive foundation with companies like Ford, Royal Power Solutions, Stellantis, Tenneco and others already operating here. Indeed, Illinois ranks among the top five states in terms of manufacturing locations for batteries, electrical and electronic equipment, transmission and powertrain parts, motors and generators, and other EV-specific components.  
When EV companies evaluate the perfect location for growth, Illinois' commitment to building for the future, its robust brainpower and its existing base of automotive companies are all crucial factors to consider. To learn more about how being in Illinois can help supercharge your EV business, please reach out to the Intersect Illinois team.